The latest gossip and speculation from around the sport
Last Updated: 11/02/19 11:35pm
Williams excited by Russell-Kubica
The famous blend of youth and experience is one which perfectly sums up Williams' all-new driver line-up for 2019 – with the George Russell-Robert Kubica partnership described as representing "next-gen Williams" by the team.
"It's going to be a really great fight. We're so excited about the line-up we've got," Claire Williams told Sky Sports News. "The rookie in George, with the capability he has, he's dominated every championship he's competed in, he comes to us having won the F2 championship, he's a great personality, a really great team player as well. And we've talked about Robert. I think as a combination, they really are the essence of Williams moving forward into a future that we know is bright and that we know is very sustainable.
"Like Robert said himself he is technically a rookie again. He was a real bright talent, a bright light, when he was in Formula 1 eight years ago. We wouldn't put someone in our race car that we didn't have the confidence in that he can deliver on track, but also Robert's capability from the engineering side of things, which is where we need that driver who can help develop the car and work with our technical team to bring performance to the race car. Robert is eminently capable in that respect as well, so we really feel we've got double the package with Robert."
What has Russell learnt from Hamilton?
The Mercedes junior turned Williams race driver explains one key lesson he has learned from working with F1's five-time world champion.
"The help I've had from Mercedes and Lewis is more listening and learning to be honest," said Russell. "I tried to use my ears more than my mouth when I was in that environment, and there was a huge amount I learned. Just seeing how he did it.
"In Formula 1 you can't just rely on your natural talent or your speed and that proved to me that Lewis just doesn't rely on that, he goes out there to try to work on every single aspect and really try to build that team around him. That's why at the moment he and Mercedes are so strong and winning all these races and championships."
New season, new cars
Day One of launch week brought us two fresh F1 2019 livery reveals!
Check out the Williams FW42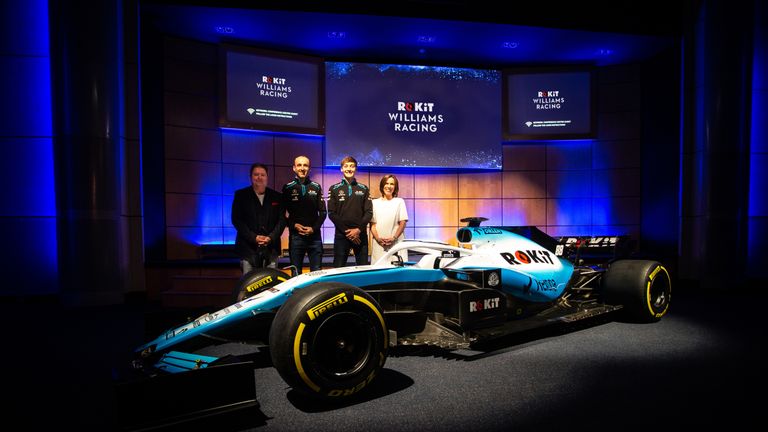 And the Toro Rosso STR14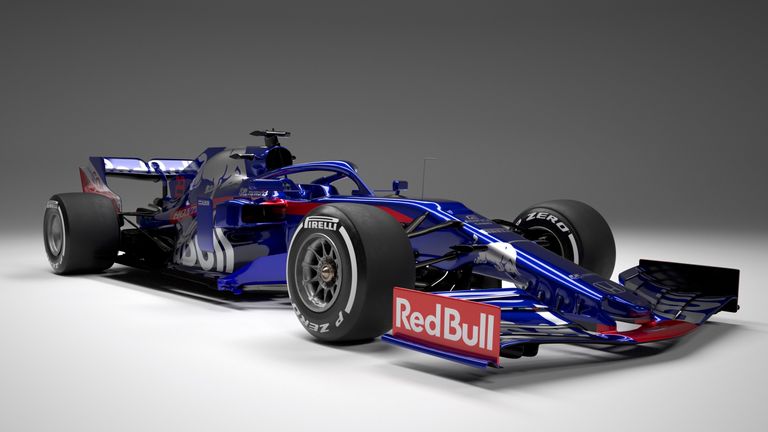 Verstappen completes FIA punishment
Max Verstappen has completed the public service punishment he was handed for shoving Esteban Ocon at last season's Brazilian GP.
Verstappen observed stewards at a Formula E race earlier this year, and has now attended an FIA ​​International Stewards Program in Geneva.
"We do our work on the job and try to get the most out of our race, and it is clear that the stewards are doing their work to be able to make a fair decision in the best way", Max said.
"It has been a good lesson and I have learned a lot, both during my day in Marrakesh, where I have been entertained and gave me a lot of insight about the stewards, and now here. I think it's good to have participated in this event too. "
Could Alonso test for McLaren?
Fernando Alonso, recently 'retired' from F1, has been back at the McLaren factory recently, sparking rumours that he could have an active role in the team's pre-season testing programme.
So, will we see him in Barcelona? Team boss Gil de Ferran isn't exactly ruling it out…
"We do not know yet, we'll see," De Ferran told Spanish publication AS. (Full story – external site)
Ricciardo doubts Hamilton or Vettel interference
You may have read our story on Daniel Ricciardo chatting about his failed moves to Mercedes and Ferrari last season – if you haven't, read it here and listen to Natalie Pinkham's In The Pink Podcast!
Something extra from that chat was Ricciardo speaking about Lewis Hamilton and Sebastian Vettel, after being asked whether he thought they would have stopped their teams from signing the Australian.
"You'll have to ask them," he said. "You never know. There's an argument for, for sure, and there's probably an argument to say that they're two of the best drivers in the world, they're confident, and they believe they can beat anyone.
"To be honest, I don't think they would have stopped it. Long story short, I think organisations as big as Ferrari and Mercedes, if they want to do something they'll do it.
"Seb and Lewis I'm sure have power, but not enough to say 'guys, you're not going in this direction.'"
Haas 'not worried' by Alfa-Ferrari
While they have always distanced themselves from suggestions of being Ferrari's 'B' team, Haas say they are not concerned by the Scuderia's growing ties with what is now the Ferrari-engined Alfa Romeo team, formerly known as Sauber. Both Ferrari and Alfa have been linked through the Fiat Chrysler Group (although Ferrari was spun off in 2016) .
"What else they do I have no influence, but they are always very fair and very good with us," Haas boss Guenther Steiner told Sky Sports News.
"So I don't think anything will change. I'm not worried at all."
Verstappen and Gasly hit the ice
No team prepares for a new F1 season quite like Red Bull!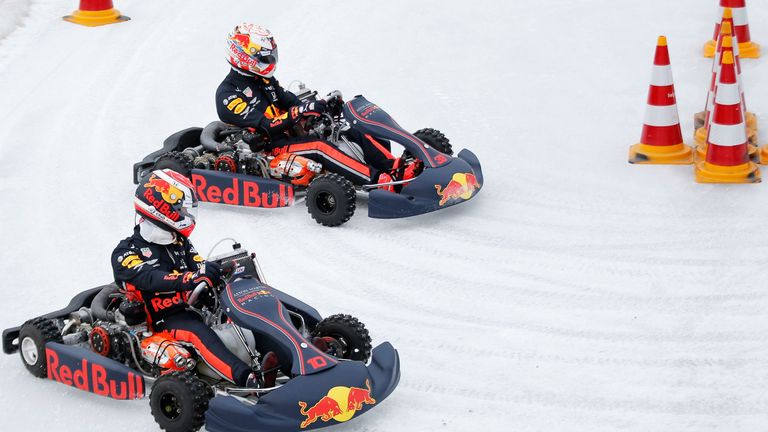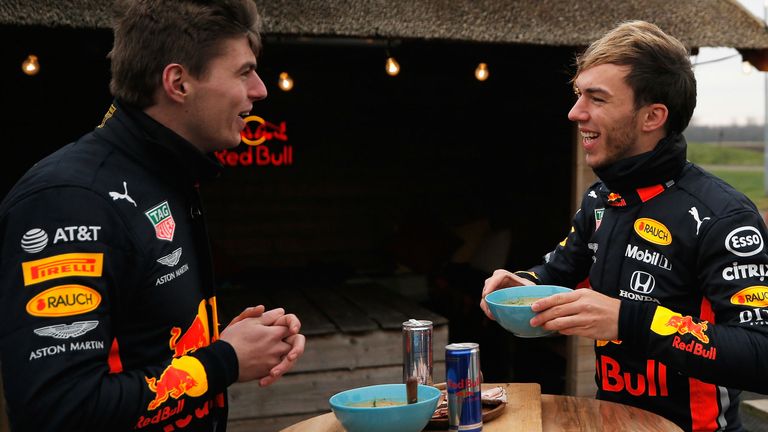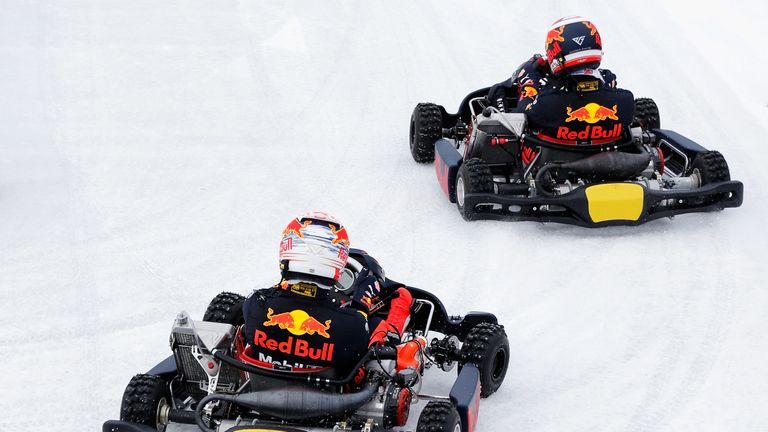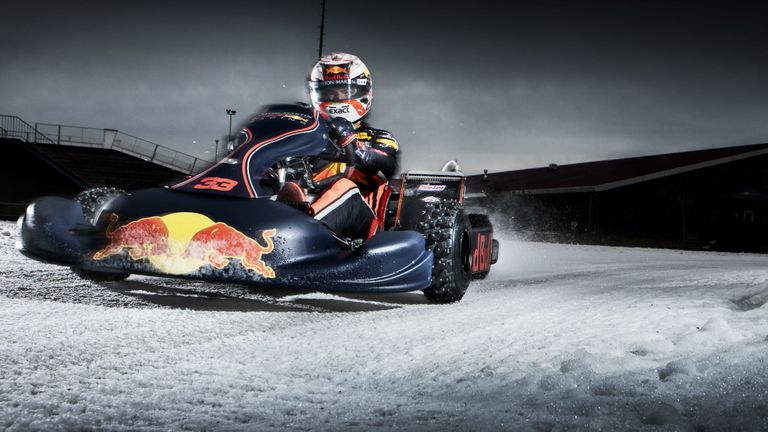 How will Red Bull fare in 2019?
Expectations are high surrounding the new Red Bull-Honda marriage, but will the union be ready to take on Mercedes and Ferrari all the time in 2019?
Haas driver Romain Grosjean isn't so sure:
"I do see Mercedes, Ferrari and Red Bull at the front and a good fight," said the Haas driver at the team's launch.
"I see Ferrari and Mercedes still a little bit ahead of Red Bull, but we've got to wait until the first few races to get a clearer picture."
How Mercedes' 2019 car was born
James Allison gives an insight into the world champions' preparation for the new season – it really is a fascinating watch!
Carey provides update on Silverstone future
The British GP at Silverstone is set to fall off the F1 calendar at the end of the year unless a new deal can be agreed but F1 chairman Chase Carey says talks are still ongoing with the circuit's owners and is hopeful of breaking the deadlock.
"Silverstone is a valuable race," Carey told Sky Sports News' Craig Slater. "We appreciate what Silverstone has meant to fans. We are engaged with them to see where we can get to.
"This sport historically seemed to like to talk in public before they talked in private. We're trying to do the reverse, talk in private and then address the public with what we've done.
"We're going to continue doing with what we think is the right thing, but we are engaged with Silverstone."
Watch the full exclusive interview with Carey: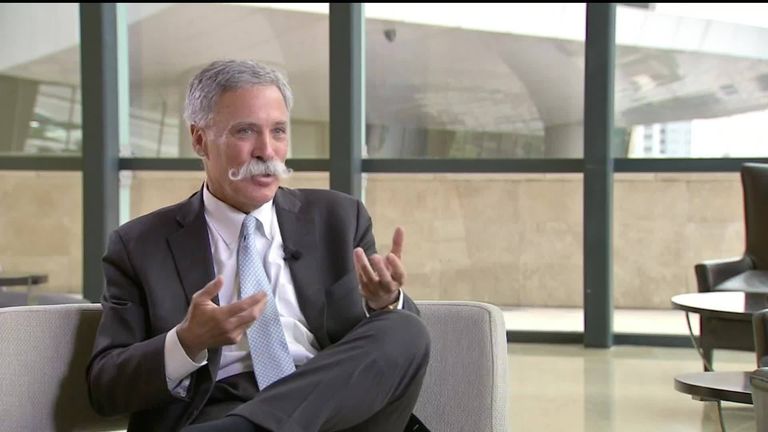 Haas' new black and gold look
Magnussen, Grosjean and Fittipaldi model the team's new-look kit for 2019 ahead of the unveiling of what is expected to be a similarly-liveried black and gold Haas car…
New Mercedes to don camouflage?
Check out those new lids…
The Red Bull boys looking sharp…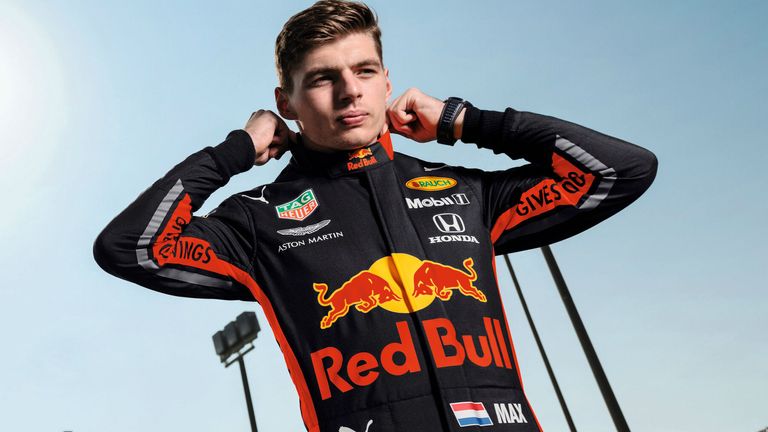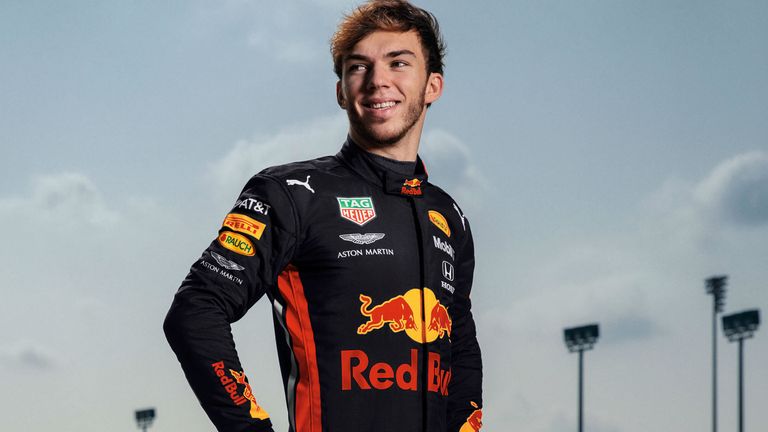 Ricciardo in Renault colours
A first look at Ricciardo in the kit of his new Renault team…
Hartley named as Ferrari simulator driver
Brendon Hartley may have lost his seat in F1 but he hasn't lost his link to F1 entirely.
The Kiwi has been named as one of four Ferrari simulator drivers for the year ahead alongside Pascal Wehrlein, Antonio Fuoco and Davide Rigon, 32.
Surfing the crest of a wave – literally…
As ever, the world champion has been keeping busy!
Nico and Jenson's 10-year challenge?!
Is that what I'm gonna look like in 10years?

— Jenson Button (@JensonButton) February 1, 2019
Ferrari plan investment to beat Mercedes
Ferrari will pump more money into their Formula 1 project in a bid to finally end the team's trophy drought, CEO Louis Camilleri has confirmed.
The Scuderia haven't won the constructors' title in 11 years, but Camilleri, speaking at a Ferrari conference call, said he was pleased with the team's improved 2018 season – in which they just lost out to Mercedes.
"In 2018 we have achieved the best result since we won the constructors' championship, with the goal of winning for 2019," said Camilleri.
The Italian, who replaced the late Sergio Marchionne last year, added: "There will be an increase in expenses reflecting this ambition." (Full story on Sky Sports in Italy – in Italian)
Meanwhile…
Will this be the engine that powers the Scuderia to the F1 2019 title? Ferrari's launch is on February 15…
McLaren fire up new car
It's all systems go for the Renault-powered MCL34, which is revealed on Valentine's Day.
All smiles from the new team-mates
Hartley reflects on F1 experience
In a candid reflection on his single full season in F1, former Toro Rosso driver Brendon Hartley says it became clear as early as the sixth race of last season in Monaco that certain elements of the Red Bull-owned outfit wanted him to be replaced.
Reflecting on that weekend, Hartley told The Players' Tribune: "When I look back now, what I will remember most about it is walking down to the paddock to meet with the media on the Wednesday before the weekend started, and receiving a bunch of questions about my future. Here I am, a handful of races into my F1 career, and I'm being asked about the end.
"The worst part of that day, though, was finding out there was some truth to the rumours. After a few races, there were some people, it appeared, who didn't want me there. I'll be honest, this was a bit of a shock. After entering F1 with a wealth of experience, two World Endurance championships, a win at Le Mans, and out qualifying my team-mate two out of the first three races, it was hard to for me to believe that there was talk of my being replaced so early."
Hartley goes on to say he was ultimately informed he would not be retained for 2019 in a meeting an hour after the Abu Dhabi season finale, although makes clear that his 2018 was still "one of the best years – and I truly mean that – of my life". (Full story – external site)
A word from Max Verstappen…
Exclusive: Button and Rosberg on F1 2019
The world champions turned Sky F1 pundits on Lewis Hamilton, Sebastian Vettel, Max Verstappen and lots, lots more…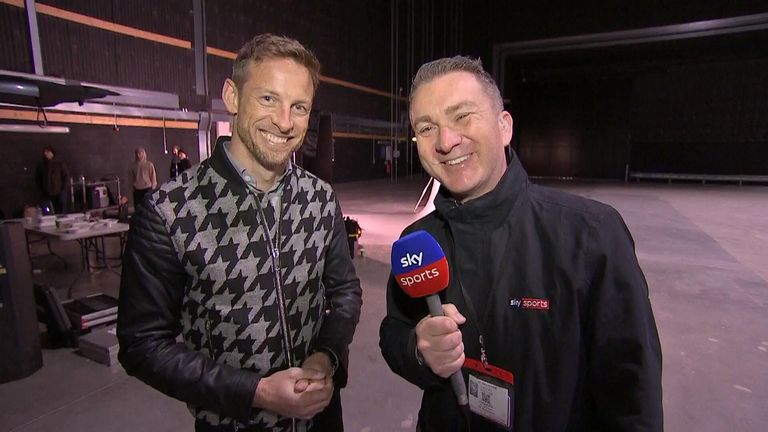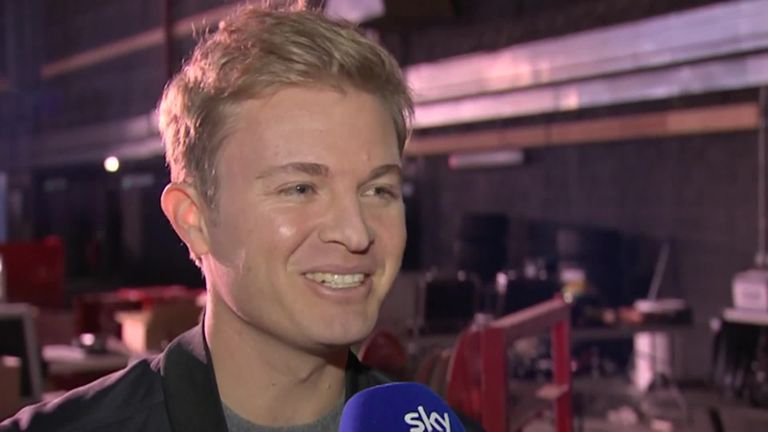 Sirotkin's test of endurance
A new career direction in racing for Sergey Sirotkin in 2019 after leaving Williams.
Alonso wins Daytona 24
Fernando Alonso's post-F1 career has begun in winning style with the Spaniard winning the prestigious Daytona 24 Hours sportscar race at the second attempt. A year on from his debut in the event, Alonso and his team-mates triumphed in challenging wet conditions which saw two red-flag periods.
Alonso sealed victory in the closing stages when he passed fellow former F1 driver Felipe Nasr, whose car slid off the treacherous track.
Bottas' F1 2019 'warm up'
A top-five finish for the Mercedes driver, plus a stage win, on his first-ever experience of rallying – in the picturesque, but mighty tricky, snowy conditions of Lapland.
The secret world of Formula 1
Inside Renault on the eve of F1 2019 as Marcin Budkowski recalls the controversy surrounding his arrival at Enstone and whether teams should open up to their rivals…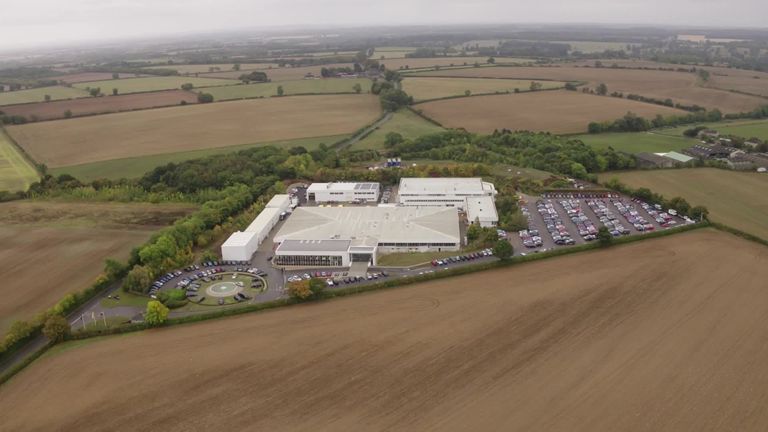 Countdown to launch week continues…
Let's block ads! (Why?)