West Coast Main Line train delays after signal failure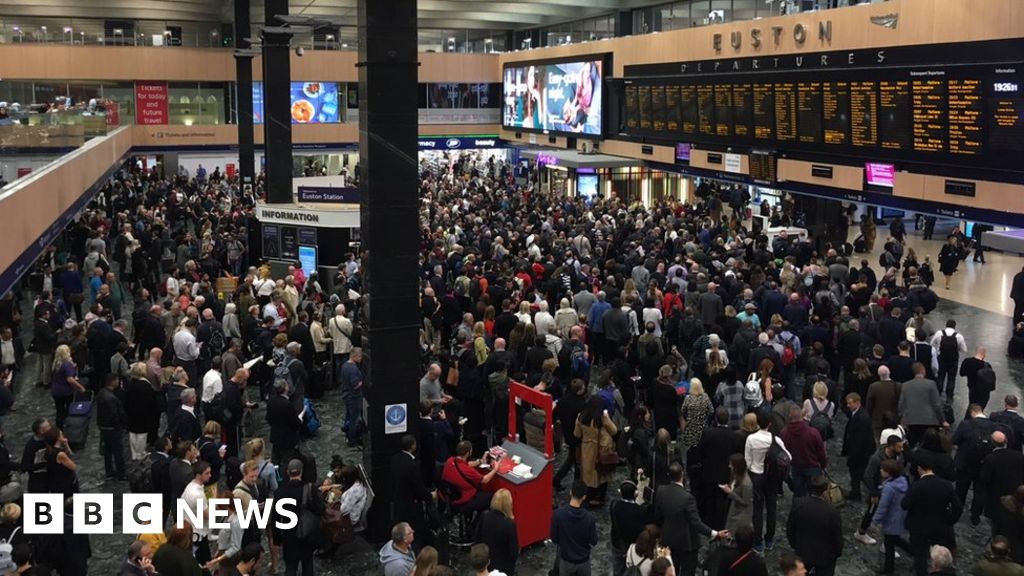 Rail passengers have described having to stand in toilet cubicles to fit on trains after a signal failure caused delays and cancellations to and from London Euston.
No trains could travel between Euston and Watford Junction for two hours after a cable broke in Wembley, north-west London, at about 12:30 BST.
This caused disruption to other cities on the West Coast Main Line including Birmingham, Manchester and Edinburgh.
Network Rail apologised to customers.
Thousands of rail passengers were delayed, including Jamie Duthie who tweeted: "So the @VirginTrains 16:30 Birmingham NS -> Euston has 5 coaches instead of 10, fair enough, it was because of delays, but they allowed every person on the platform onto the train.
"People (like myself) are actually forced into the toilets for space right now."
Another Twitter user added: "Only place I could squeeze into was the toilets despite having reserved seats."
Ruth Carlyle shared a photo of Euston stations blank departure boards, and said she was "relieved" to get a seat on her train home.
Labour leader Jeremy Corbyn was also caught up in the scramble, shortly after he made a speech at Labour's annual conference in Liverpool about the "shambles" of the country's franchised rail network.
Mr Corbyn tweeted: "Couldn't make this up. We need public ownership of our railways."
The disruption meant hundreds of delegates struggled to get home from the event, which ended today.
Railway signalling is managed by government-owned Network Rail.
The failure is not thought to be related to engineering work which was recently carried out in north Wembley, where the fault happened.
A Network Rail spokesman said that although power was returned to the line at 14:30, it would "take some hours" before timetables returned to normal.
"We are really sorry to everyone impacted by this," he added.
Services as late as the 19:55 from Manchester Piccadilly were cancelled in advance.
Let's block ads! (Why?)